King 2600
Truck Tyre Changer
Product range
High Volume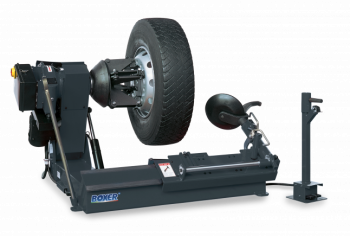 King 2600
Truck Tyre Changer
Product range
High Volume
PRODUCT DESCRIPTION
TheBoxer King 2600 truck tyre changer for tubeless and tube type wheels features quick-fit aluminium protectors and permanent vertical plastic protectors on the jaws to help prevent accidental damage to the rims. This superbly engineered machine also features an easy-to-use two-way tool for bead-breaking, mounting and demounting.
Electro-hydraulic drive

Mobile control unit

Positioning of wheel and tool within a wide accurate adjustment range

Infinitely self-centring universal hydraulic chuck

Bead breaker roll and mounting/demounting tool fitted on swing arm

Safety valve on chuck prevents accidental unclamping of wheels

Ergonomic operation owing to vertically adjustable control unit
Expand ▼
Collapse ▲
Bead breaker 3850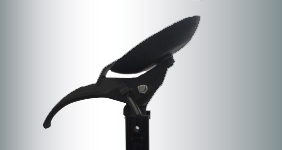 The bead breaker disc is equipped with a special tilting system in order to increase bead breaking effort and to make sure the bead breaking disc is always in optimum position relative to the rim.
Chuck - 3850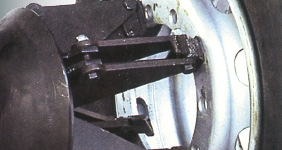 The chuck is of solid design to accommodate wheels of up to 1000 kg. A non-return valve prevents the chuck from opening in case of a sudden hydraulic pressure drop.
The mounting clamp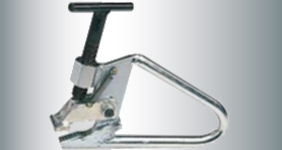 | | |
| --- | --- |
| For wheels type | Road |
| Rim diameter no extensions | 14" - 26" |
| Rim diameter with extensions | - |
| Clamping center bore range | 130 - 560 mm mm |
| Wheel diametre | inch |
| Wheel diametre | 1500 mm |
| Wheel width | 700 mm |
| Wheel width | inch |
| Max wheel weight working position | 1000 Kg |
| Max wheel weight working position | inch |
| Clamping type | Tulip clamp double effect |
| Clamping axial orientation | horizontal |
| Clamping force | 76.5 kN |
| Clamping force | lbs |
| Chuck speed | 1 |
| Bead breaker type | Disk |
| Bead braking force | 27000 N |
| Bead braking force | lbs |
| Breaking force | |
| Breaking force | |
| Mounting tool type | Tool |
| Demounting tool type | Fixed Disk / Tool |
| Tools tangential to the rim | No |
| Tool left/right travel | Manual 3 positions |
| Tool rotation | Manual w/ lever |
| Tool positioning | Manual |
| Hydraulic pump flow | 4,5 |
| Hydraulic pressure | 160 bar |
| Carriage, cylinder diameter | 45 mm |
| Carriage, cylinder diameter | |
| Chuck arm, cylinder diameter | |
| Chuck arm, cylinder diameter | 60 mm |
| Integrated wheel lift | No |
| Hydraulic motor | 1,5 kW |
| Chuck motor | 1,8 kW |
| Power supply | 400 VAC 3ph 50Hz |
| Max footprint dimensions | |
| Max footprint dimensions | 1670 x 1400 x 840 |
| Net weight | 540 Kg |