Super LX 24 GT PLUS
Pneumatic tilt-back tyre changers recommended for garages and tyre shops with medium to high tyre service volume
Product range
High Volume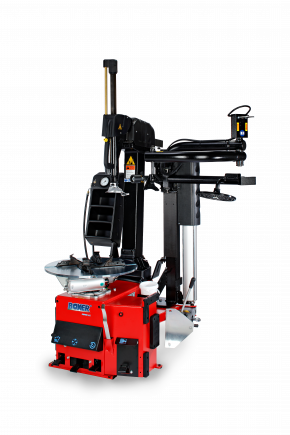 Super LX 24 GT PLUS
Pneumatic tilt-back tyre changers recommended for garages and tyre shops with medium to high tyre service volume
Product range
High Volume
PRODUCT DESCRIPTION
The tyre changer for use in high-volume tyre shops and car dealerships - with pneumatic tilt-back post, 24" outside clamping capability, 15" maximum wheel width and PROspeed™ technology
Also available with pneumatic mounting tool MH 320 PRO and plus kit (standard equipment) for handling of UHP and run-fl at tyre systems (additional optional adaptors required for PAX and CSR tyres)

Outer clamping range of up to 24"

A double-acting bead breaking cylinder and an oversize bead breaker blade prevent damage to rim and tyre. The bead breaker arm is adjustable

Alloy rims are handled particularly gently as the mounting head and the clamping jaws are provided with plastic protectors. The one-part mounting head can be adjusted in spaced-apart position relative to the rim

Pneumatic pedal-operated tilting adds user-friendliness. Pneumatic locking of the post in working position ensures precision

The self-centring off-centre turntable with four sliding jaws is controlled by two clamping cylinders – quickly and accurately.

The Super LX 24 is powered with the new PROspeed™ inverter technology

Pedal-operated inflator. Additional top-side bead seater on GT versions

Practical tool box for tools and valves, including integrated pressure gauge.

With external bead seating kit
Expand ▼
Collapse ▲
BEAD BRAKER BLADE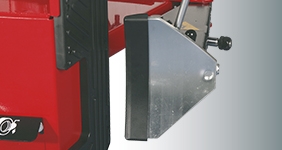 Owing to its special shape the bead breaker blade handles rims most gently and facilitates operation considerably.
GP models
A direct burst of compressed air facilitates bead seating. The GP models offer a top-side bead seater with a 24-litre tank.
PLUS CONFIGURATION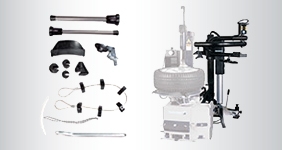 The plus models are certified by wdk. They come standard with MH 320 pro and plus kit that enable the correct mounting and demounting of UHP and run-flat tyres.
PNEUMATIC VERTICAL ARM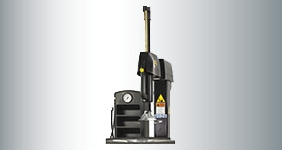 Fast and ergonomic: the pneumatic vertical arm facilitates positioning of the mounting head on all wheels.
PROspeed™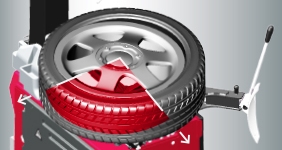 The innovative technology – patent-protected – that optimises the torque applied to the wheel and automati cally sets the maximum rotation speed of the wheel accordingly.
OPTIONAL QUICK-EXCHANGE DEVICE WITH PLASTIC HEAD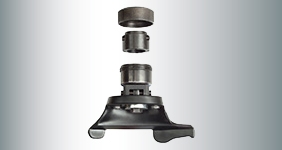 Owing to the quick exchange device, steel and plastic mounting heads can be quickly swapped over
| | |
| --- | --- |
| M/D tool technology | M/D tool & bead lever |
| Tower technology | Pneumatic tilt back |
| Clamping System | Turntable & clamping jaws |
| Tool vertical positioning | Pneumatic |
| Jaw type | Adjustable - Sliding |
| Rim diameter | 10"-24" |
| Outside clamping range | 10"-24" |
| Inside clamping range | 12"-24" |
| Max wheel width | 380 mm |
| Max wheel width | 15 inch |
| Max. Wheel diametre | 1000 mm |
| Wheel diameter | 39.4 inch |
| Breaking force | 12 kN |
| Breaking force | |
| Rotation speed | CW 7 - 18 rpm CCW 7 rpm |
| Speed control | PROspeed |
| Max. torque | 1200 Nm |
| Max. torque | 885 |
| Bead seating- Top-side inflation | yes |
| Toolbox | Standard |
| Easymont pro | Standard |
| Wheel lift | Optional |
| Capability | 70 kg |
| Power supply | 230 VAC 1ph 50/60 Hz |
| Power supply (Amperage) | 16 A |
| Installed motor power | 0,9 kW |
| Dimensions LxWxH | 1920 x 1615 x 1685 mm |
| Dimensions LxWxH | 75.6" x 63.6" x 66.3" |
| Net weight | 330 Kg |
Super LX 24 PLUS
The tyre changer for use in high-volume tyre shops and car dealerships - with pneumatic tilt-back post, 24" outside clamping capability, 15" maximum wheel width and PROspeed technology
Super LX 24 GT
The tyre changer for use in high-volume tyre shops and car dealerships - with pneumatic tilt-back post, 24" outside clamping capability, 15" maximum wheel width and PROspeed technology
Super LX 24
The tyre changer for use in high-volume tyre shops and car dealerships - with pneumatic tilt-back post, 24" outside clamping capability, 15" maximum wheel width and PROspeed technology